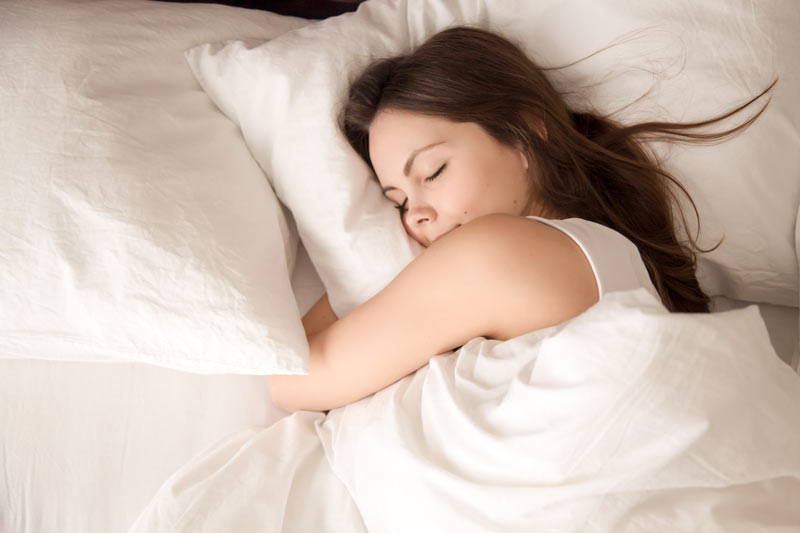 BAMBOO BEDDING
Bamboo bedding is the new must have for your bedroom
Bamboo sheets are beautifully soft to sleep on
Keeps you cool in summer and warm in winter
Hypoallergenic making it ideal for sensitive skin  
Environmentally friendly compared to cotton
Bamboo bedding is machine washable super easy to care for
TAKING THE UK BY STORM
There's far more to bedlinen than cotton and man-made fabrics, so what material is best? Should you have cotton if you cannot have silk?
Here at Calidad Home we can confirm that silk bedlinen is deservedly popular, but we also must admit that it is more expensive.
Cotton is soft and durable - but just a couple of the key bamboo bedding benefits mean it beats cotton hands down for both softness and strength.
Read on to discover more about the incredible advantages of bamboo bedlinen.
Bamboo Benefits At A Glance
1, Materials containing bamboo have an irresistibly smooth surface
2, Sleeping under a bamboo duvet cover cocoons the sleeper in luxurious softness
3, Bamboo is a breathable and naturally thermo-regulating fabric, keeping you warm yet cool
4, Costly skin lotions and potions are not wasted when using bamboo sheets or pillowcases
5, Bamboo does not discolour as easily as man-made fabric or cotton, so it looks good for longer
6, Hygiene is improved, as bamboo's anti-bacterial properties keep the fabric cleaner and fresher
7, Bamboo is naturally hypo-allergenic and resistant to bacteria, dust mites and bed bugs
8, Those who sleep on bamboo may notice a reduction in acne, eczema or psoriasis symptoms
9, Bamboo sheets have a natural stretch and is super strong, making it a more long-lasting choice
10, Highly sustainable bamboo means growing and harvesting it is far better for the planet
11, Growing bamboo involves less water usage and soil disruption, while producing lots of oxygen
12, Bamboo bedlinen is more affordable than silk, yet offers so many more benefits than cotton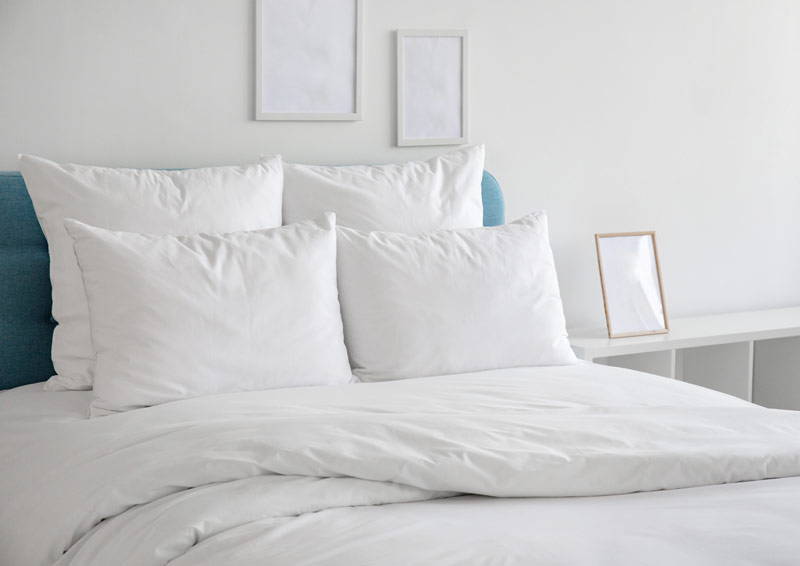 Bamboo bedlinen is
super soft
Bamboo bedding is super comfortable - even when compared to pure cotton. Bamboo sheets are softer to the touch than even the highest thread count cotton fabrics.
If you want to feel cosy, snug and cared for by night, then bamboo products are a great option. Investing in bamboo bedding will cost far less than a silk set. While bamboo is admittedly not as luxurious as silk, it does offer incredible softness.
This means it is kinder to skin than cotton, and gives the sleeper the feeling of being enveloped in pure luxury. Thanks to its super smooth surface, bamboo pillowcases, sheets and duvet covers feel cashmere soft.
Bamboo is
non-absorbent
This means that all the goodness in your expensive serum or night cream is retained, rather than being rubbed off onto the pillow and thus wasted. Why spend more money on face oils or lotions when you could make a one-off purchase of a bamboo bed set instead?
The absence of oil absorption also means that bamboo pillowcases and sheets don't discolour in the same way as cotton or man made fabrics.
This helps to keep your bamboo bedding looking just as youthful as your skin. It will also smell fresher, lasting for longer between washes.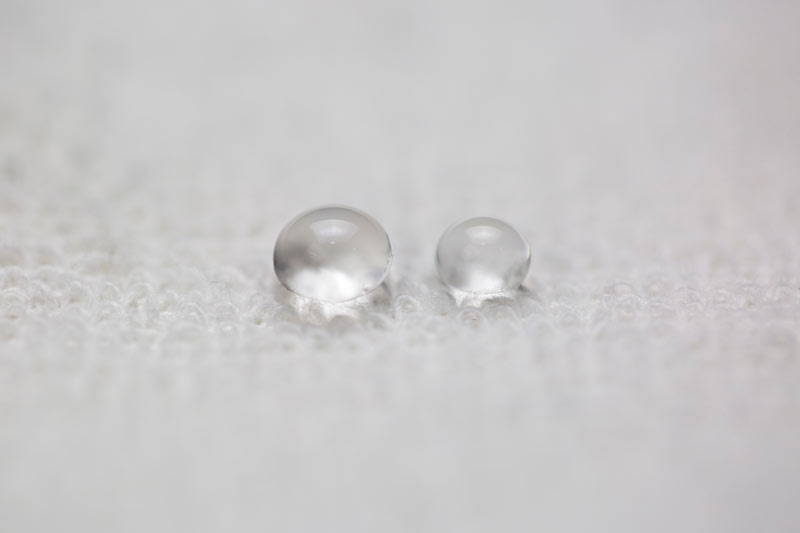 Bamboo bedding is breathable

 
Bedlinen made from bamboo is more breathable than duvet covers, sheets and pillowcases made from traditional cotton, man-made or blended fabrics. This breathability helps to keep you cool - even when your the temperature of your body or the surroundings soars - or plummets. The fact that bamboo is naturally thermo-regulating means excess heat or cold is more easily removed from under your covers.
Sleeping in super soft bamboo is therefore ideal for those suffering from hot flushes or night sweats. It is also a premium choice for warmer climates, or for those whose partners feel the cold - or heat - at night more than they do. Think about the sort of Asian climates bamboo can grow in, and it makes sense. Just as the plant manages to stay cool even in tropical conditions, the fabric can do the same for you as you slumber.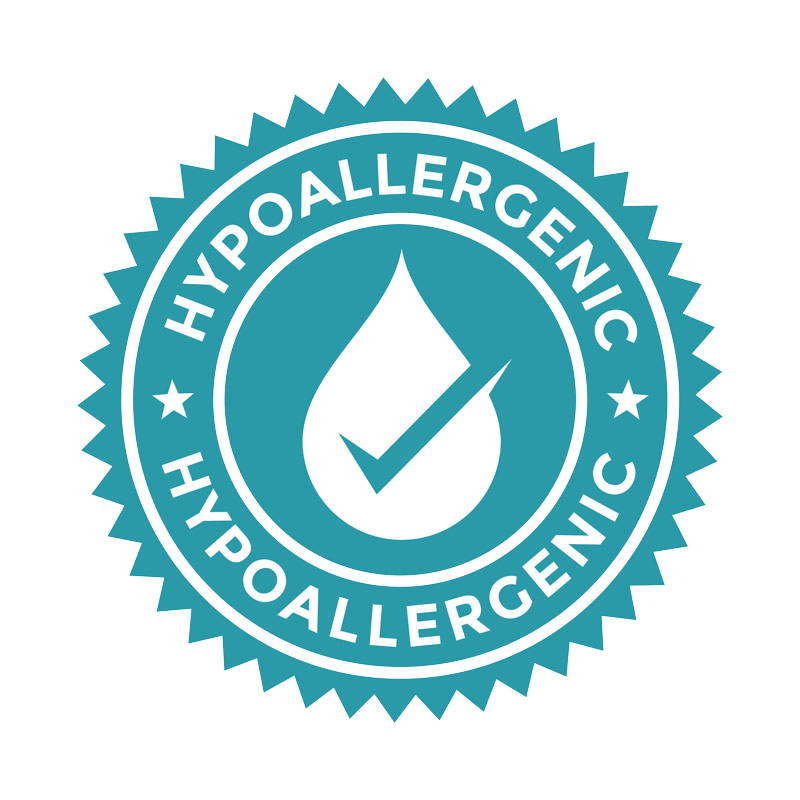 Bamboo sheets are hypoallergenic
Because they don't retain moisture, bamboo sheets are more repellent to nasties such as bed bugs and dust mites. The hypoallergenic qualities of bamboo fabric also mean it is far kinder to those with sensitive skin, and it can help to keep inflammatory skin conditions like eczema, acne or psoriasis under control.
Bamboo is also kinder to your respiratory system as well as your skin, minimising those allergic reactions - such as sneezing - caused by dust mites. A bamboo duvet cover is also naturally resistant to mould, mildew and fungus, keeping the quilt or pillow within cleaner and fresher - with absolutely zero effort.
Those who suffer from allergies to other natural fabrics like hemp or wool report no problems with bamboo. This is down to the fact that bamboo has "bamboo kun", a natural anti-bacterial agent.
Bamboo is kind to the environment
Bamboo grows fast, and doesn't require much water to do so. Some types can grow up to a metre in just one day. The plant's runners constantly produce new shoots - a fact that may be pain for gardeners but is surely heaven-sent for crop growers.
Producing bamboo rather than cotton leads to far less use of water, fertilisers and pesticides, and the crop yield per square metre puts cotton and other fabrics in the shade. As bamboo is simply harvested by cutting, the plants are not uprooted. This helps to retain soil stability while allowing the canes to regrow.
The plant even gives off lots of life-giving oxygen. This can help to retain the right balance between carbon and oxygen in the earth's atmosphere. Once your bamboo product does reach the end of its life, the fact that it is biodegradable minimises environmental impact. As well as being antibacterial, the aforementioned "bamboo kun" allows the plant to develop and flourish naturally, without any need for fertilisers or pesticides.
The supply of bamboo is also naturally replenished, minimising the carbon footprint of this fine fabric. As a leafy green grass whose growth more closely resembles a tree, bamboo plantations lead to increased photosynthesis, resulting in cleaner, fresher air for everyone on earth.
BAMBOO IS EASY CARE
Bamboo bedlinen can be machine washed, just as with silk, cotton or synthetics.
Washing your bamboo bedding on a gentle cycle before allowing to line dry naturally is the best way to care for this superior fabric.
If you like, it can also be ironed on a low heat. Treat it with just a little care and your bamboo should look and feel great for many years to come.
BAMBOO IS MORE AFFORDABLE
While synthetic, man-made fabrics tend to be less expensive than cotton, good quality bamboo fabric is often more costly.
It is, however, often far more affordable than the most luxurious types of cotton, such as Egyptian cotton, Supima cotton or Pima cotton.
THE BEST BAMBOO FABRIC
Not all bamboo materials are made equal. Mechanically-produced bamboo fabric is the only true bamboo fabric. As compared to cheaper kinds of bamboo fabric it can seem relatively costly, as it is more time-consuming to produce. It is worth the effort and the price tag, however, as this sort of bamboo fabric is the strongest, most durable, and softest available. As our silk products are only made from the finest mulberry silk, Calidad Home bamboo bedlinen is made solely from this superior type of bamboo fabric.
 

THE PERFECT BED LINEN
 Yes, here at Calidad we love our silk pillowcases - and freely admit there's no way we'd part with them. Silk is unbeatable for being gentle on skin and hair, thus reducing fine lines, wrinkling, bed head and frizz. A full set of silk bedlinen, however, requires a considerable investment. Bamboo duvet sets are far more affordable - and so much better than cotton in every way. Your skin and hair is well worth splashing out on, but the kinder price tag of bamboo bedding in the UK makes it perhaps a more realistic choice for bedrooms all over the land.
The best of both worlds WITH THE ULTIMATE BEDDING COMBO
If you'd like the best of both worlds, why not take a look at our silk pillowcase range too? A set of bamboo bedlinen will ensure your bed is as stylish, soft and snug as possible.
Dress your top pillow in a silk pillowcase and you can reap the superb benefits of both fabrics.
Resting your head on pure mulberry silk will pay dividends when it comes to getting your beauty sleep, while your whole being enjoys the cool, comfortable feeling that comes from swapping your cotton duvet cover and sheets for bamboo ones.