Sleep on a 100% Mulberry Silk Pillowcase and wake up looking amazing!
Benefits of sleping on silk
Beautiful Glossy Hair
Glowing Skin
Cooler Sleep
40% Off Sale On Now!!
"I researched silk pillowcases for quite a while and this seemed like the best one, especially given the price. Highly recommend."
- Emilia E
"Bought these pillowcases for my granddaughter and she is absolutely thrilled with them. I am going to buy more for myself."
- Maureen
"Exactly what you would expect my partner loves them I don't think I can go back to cotton again. The quality is top notch I couldn't be happier.."
- Paul M
"Wonderfully smooth and soft. Wash well and i don't wake up with lines on my face from sleeping on it"
- Beverley J
"This pillowcase is really comfortable, I had been sleeping on a cotton pillowcase and this feels gorgeous in comparison"
- Anita S
"I absolutely love my silk pillowcases, I like them in all colours they really are blissful and help me wake up with smooth hair and relaxed face. The best."
- Clare D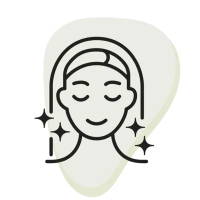 Smooth Glossy Hair
A silk pillowcase has less friction than cotton so can reduce friction on your hair helping to tame that morning hair frizz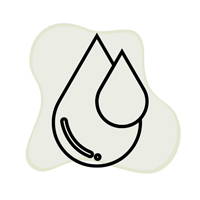 Younger Looking Skin
Sleeping on silk has amazing beauty benefits helping to keep more moisture in the skin and reducing the appearance of fine lines and wrinkles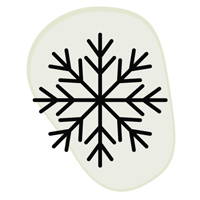 Sleep Cooler
A 100% Mulberry silk pillowcase has cooling properties helping you get a better nights sleep. Wake up refreshed and looking amazing!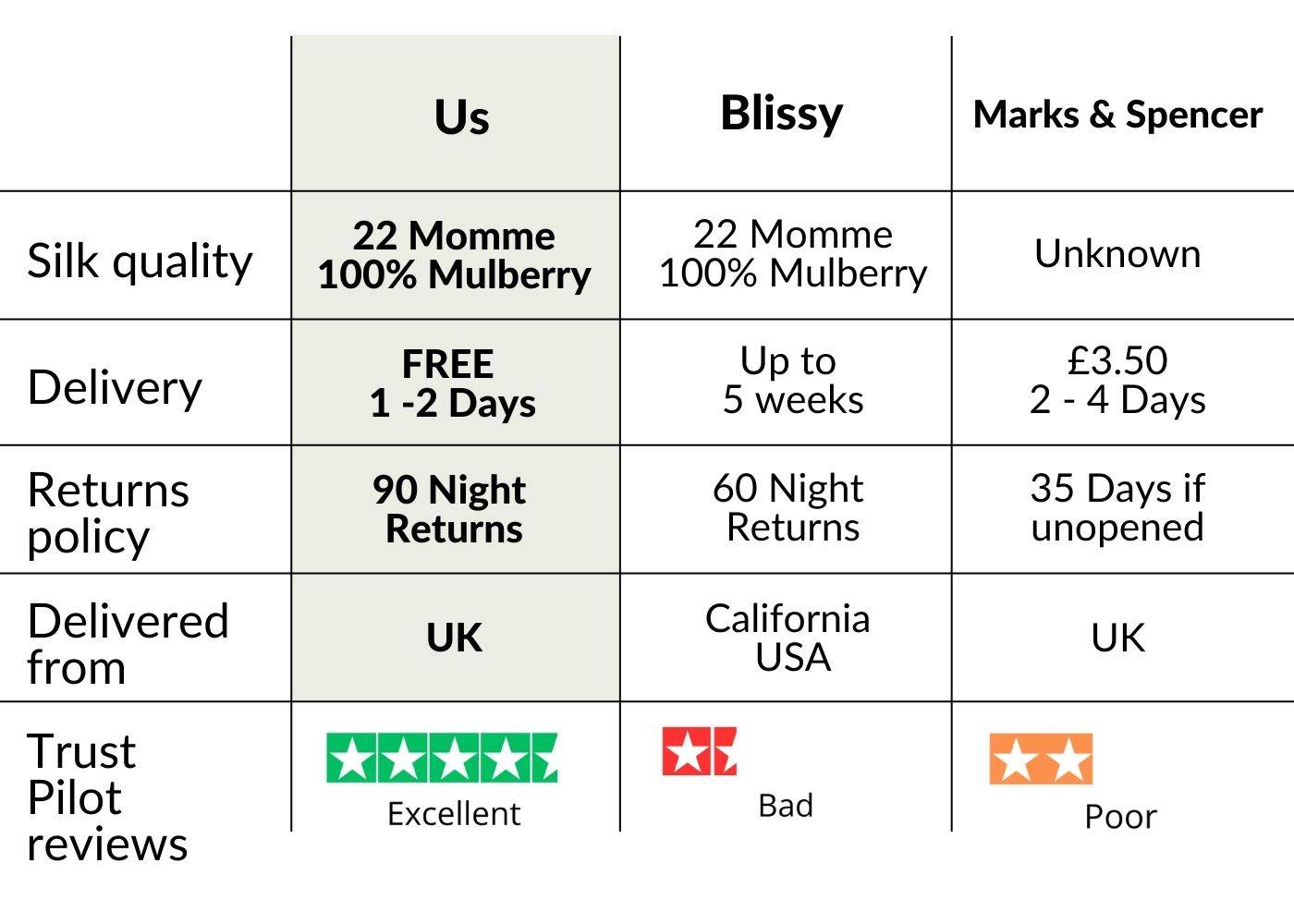 See what Our Customers Love About Their Pillowcases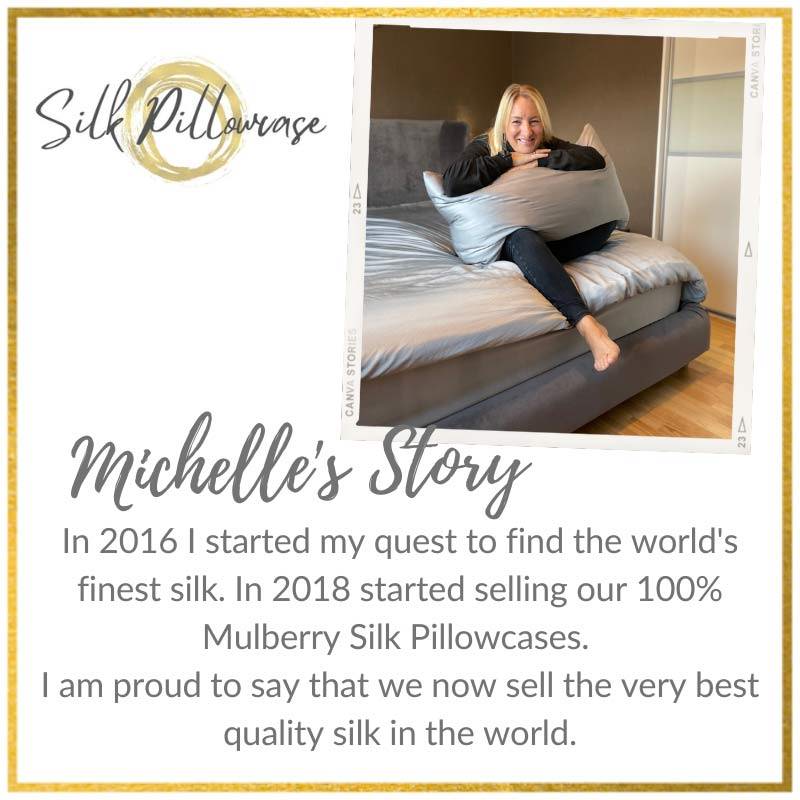 Michelle's silk pillowcase story


In 2016 I started my quest to find the world's finest silk. In 2018 Silk Pillowcase.co.uk started selling our 100% Mulberry Silk Pillowcases in the UK.
When it comes to investing in ourselves I can totally appreciate spending out on a luxury pillowcase probably takes a great deal of thought, consideration and research.
This is why when investing in one of our Real Silk Pillowcases I can guarantee you that the quality of silk and manufacture IS the highest quality.
It is 22 momme, 100% Grade A, Long Strand Mulberry Silk and if cared for correctly, will last you for many years.
My promise to you is if you don't love your new pure silk pillowcase (I'm pretty sure you will) simply send it back within 90 nights and I will give you a 100% refund.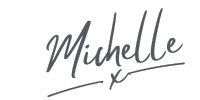 Do you want to sleep on the best silk pillowcase?
All our Mulberry silk pillowcases are 22 Momme 6A Long Stand silk- twice as luxurious
and longer lasting than cheaper silk pillowcase brands
12 Reasons to sleep on the best quality silk
Sleeping on a real silk pillowcase has beauty benefits such as giving you glossier sleeker hair
Sleeping on pure silk is cooling in summer - Helps you keep cooler
Silk is a natural product and hypoallergenic - Good for allergy sufferers
Sleeping on silk does not draw away moisture like cotton - Giving you glowing healthy skin
Bed mite repellant - No more nasties in your bed
Top rated silk pillowcases in the UK



1300+ 5 star reviews
Wonderful
"I heard about silk pillowcases from my son who heard about them from a friend. I did online research and found your website. I'm so glad I did! The pillowcase is wonderfully soft and my head keeps nice and cool. I shall be using these pillowcases all the time from now on.
Thank you!"
- 5 star review from Susan
Bought one and then immediately another!
"Why haven't I bought these before? Wonderful for my skin and hair - no longer waking up with the frizzy look. Comfy to sleep with and feel luxurious. 100% reccomend!"
- 5 star review from Hannah
Fabulous pillowcase
"I have recently bought this pillow case, it really lovely to sleep on and is affordable and all in all I am really happy with my purchase. I would recommend this pillowcase to buy, silky and soft.. just fabulous.....!!!"
- 5 star review from Geraldine
If you are going to invest in a silk pillowcase why not sleep on the finest?
We only sell 22 Momme 100% Mulberry silk which is 20% thicker and more luxurious than 19 Momme
A high-quality 100% mulberry silk pillowcase will last for years, so why not treat yourself to the best silk money can buy?
There are other silk pillowcase companies in the UK, but we're the best.
Your handmade silk pillowcase
Imagine the feeling of waking up after sleeping on silk.
We only use 22 momme 100% mulberry silk giving you the best and most natural silk available.
Naturally hypoallergenic
Mulberry silk pillowcases are made of strong fibres that are also naturally hypoallergenic.
Because it's such a natural material, 100% silk is highly unlikely to cause allergic reactions, and the strong, smooth fibres deflect allergens such as pollen. Our silk is a natural product and so gentle it can help relieve symptoms of skin conditions such as eczema or psoriasis.
Anti-ageing beauty benefits
Our silk pillowcases are an ancient beauty secret that has been used all over the world for hundreds of years by pharaohs, emperors, and aristocrats to keep their skin and hair looking good.
You can even put it in your suitcase and take it with you on holiday! It will say put on any pillow with the hidden zipper
Buy as a gift
It can be beautifully packaged in a presentation box, making it the perfect gift for a loved one.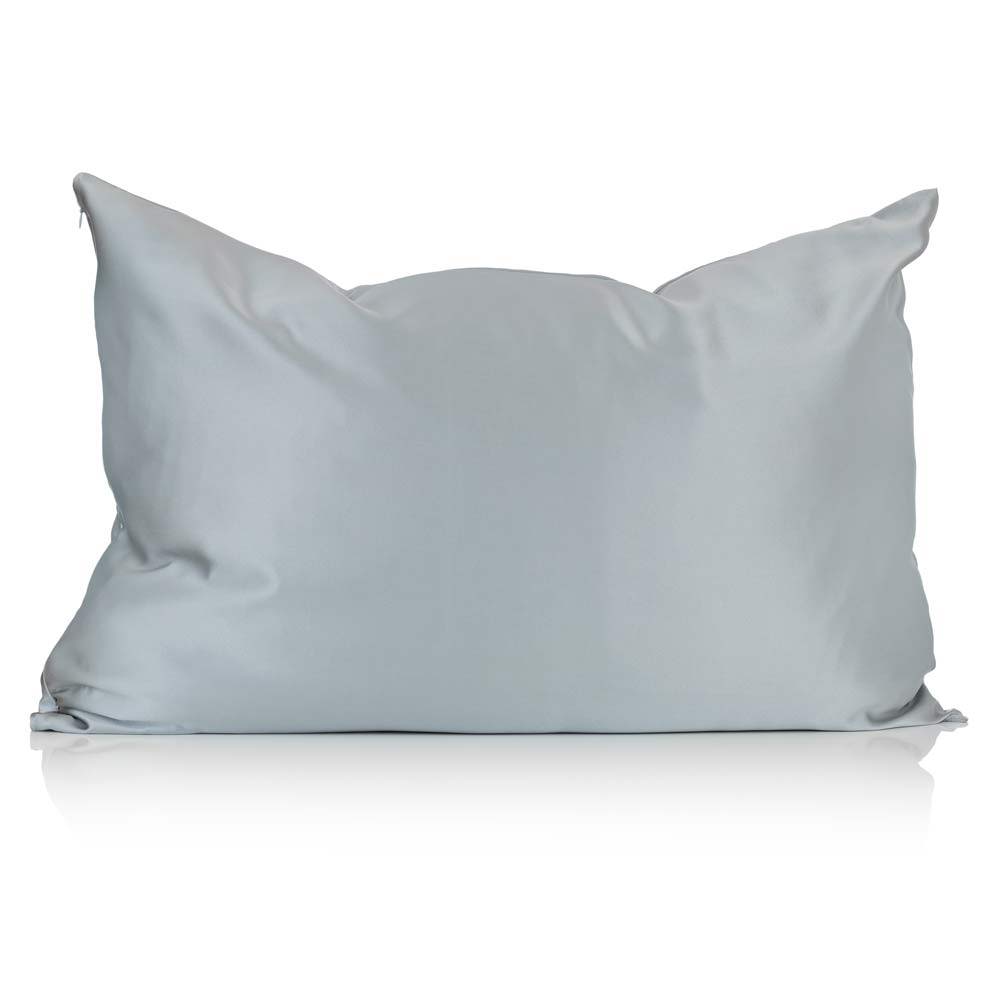 Sleep on the best!
(because you're worth it)
Do you wake up in the morning with a frizzy bird's nest on your head and more wrinkles than you went to sleep with?
According to dermatologists, sleeping on a cotton pillowcase and bedding draws moisture out of the skin, which can leave it dry, itchy, or irritated. In contrast, sleeping on a silk bed set can help your skin retain its natural moisture.
The lack of friction caused when using a 100% pure silk pillowcase versus a cotton pillowcase has the effect of reducing fine lines and puffiness on your face when you wake up each morning.
Our Mulberry silk pillowcases have a much smoother surface to slide across, and so fewer tangles occur. This in turn means fewer breakages and overall smoother glossier hair. It where the saying beauty sleep comes from.
We have FREE fast delivery in the UK.
Wake up looking amazing!


Wake up looking and feeling fabulous with glowing skin
and smoother, glossier hair.
Unlike synthetic fibres, a natural mulberry silk pillowcase doesn't cause unwanted
static electricity to build up while you sleep.
This keeps frizz at bay all night, and skin stays soft and supple. A 100% mulberry silk pillowcase
is an unparalleled combination of luxury, quality, thickness, and durability.
Take good care of your real silk pillowcase, and it could last for many years, helping you to
wake up with lustrous hair and silky skin every single day.
A silk pillowcase makes the perfect gift
Choose your gift box from our exciting range. We include our extremely popular 100% mulberry silk pillowcases with a range of other little treats such as chocolate, room scents, face masks, and eye masks.
Whatever you choose, we will take your masterpiece, pack it to perfection, and send it straight to your recipient's doorstep (or office) with free fast delivery in the UK. They will love it — and they'll love you too!

Present purchase
"Bought a pair of silk pillowcases as a gift, my friend was delighted with the gift and couldn't wait to start using them"
- Karen H.
Frequently Asked Questions
Are silk pillowcases really worth it?
We know that the best silk pillowcases are not cheap. However, are they really expensive as such? It all depends on what you compare them with. The price of a silk pillowcase can be many times the cost of a cotton equivalent, yes. But the cost is also comparable to various face creams. You might spend £50, for instance, on one pot of night cream. How long will that last you? A few months at most. A silk pillowcase will last for years, making it far better value for money.
Silk pillowcases are so worth it. Not least because they don't absorb all that pricey face cream in the same way that cotton would, leaving your skin to reap the benefits of silk. They are great for sensitive, dry, irritated, spot-prone and ageing skin, as the surface is much softer and doesn't drag as you move during the night. The means silk pillowcase fans wake up with fresher, plumper, younger looking skin after enjoying the pure luxury of sleeping on silk.
Silk pillowcase users also enjoy sleeker, smoother hair that's easer to control and style. It is also less prone to frizz, damage and dryness. So yes,if you want frizz free hair a silk pillowcase really is worth the money.
What size are your silk pillowcases?
Our silk pillowcases are 50cm x 75cm (20" x 30") a perfect fit for a UK standard pillow.
We also do a king size which is 50cm x 90cm (20" x 35").
If you have any questions about sizing please contact us at info@calidadhome.com or phone us on 01425 270283
We offer FREE Delivery on all silk pillowcases throughout the UK.
I am in a hurry can I get next day delivery?
All our silk pillowcases are posted Royal Mail that usually takes 2-4 days. You can choose guaranteed next day delivery at the checkout if you are in a hurry. If you have any questions simply email hello@silkpillowcase.co.uk or call us on 01425 270283.Text
What is your silk pillowcase guarantee?
We offer a 90 night money back guarantee on all our silk pillowcases.
How to wash a silk pillowcase?
As our silk pillowcases are the best quality you can wash them in a washing machine.
Only use a PH neutral washing liquid that is for silk. We recommend ecover wool & silk washing liquid.
Simply turn the pillowcase inside out and machine wash at 30° then dry flat out of direct sunlight or tumble dry on a low heat.
Is a 19 momme silk pillowcase good?
There is 20% more silk in a 22 momme Silk than there is a 19 momme silk pillowcase. Making a 22 momme silk pillowcase much more durable and long lasting. It also makes them feel much more luxurious. If you are going to sleep on silk we believe you should sleep on the best.
Is silk or satin better for your hair?
While it's true part of the reason why silk is good for your hair concerns the smoothness of the fabric, this is only some of the story. The reality is, silk and satin are very different. Silk is an entirely natural fabric, as well as being super smooth. Satin, on the other hand, is man made. As you may know, synthetic fabrics often cause static. That's why people often get a small electric shock when pulling a nylon jumper over their head.
Static causes friction, which is not good for your hair at all. Silk is much more gentle on your hair precisely because its super smooth, static-free surface causes far less friction when strands come into contact with - and move over the surface of - your pillow during the night. The thicker, more finely woven strands of premium quality silk make a fabric that is more gentle on your hair than any other.
What's better - silk or satin pillowcase?
There really is no contest. As touched on above in the first question, silk is a naturally sleek fabric. Satin is synthetic, and as such often causes static. The leads to friction - which is bad news for both skin and hair. Friction is to blame for all kinds of evils, such as frizzy hair and pillow creases on the face.
Real silk looks better in your bedroom, too. It has a natural lustre that man made fabrics can not replicate, and if you invest in the best silk you really can see the difference. Our silk pillowcases are also available in a huge range of dark, pastel, subtle and bright colours, as well as a selection of gorgeous printed silk fabrics.
Natural, premium quality silk is always a much better choice. You may save money by buying satin, but you will also skimp on the benefits. As well as missing out on the luxurious look and feel of pure mulberry silk. It really is incomparable.
Is it really better to sleep on a silk pillowcase?
It depends why you're asking. Is it better for your hair? Yes. Kinder to your skin? Again, yes. Does it feel utterly luxurious? Of course. Is it better than satin? Yes, because it's a gentler natural fabric, that doesn't cause static or friction. Will you actually sleep better? You may well do, not least because silk is better at preventing you from overheating as you sleep, and this if often the cause of wakefulness.
A silk pillowcase looks better and feels amazing. Moreover, it has incredible benefits for your skin and hair. Silk fans report smoother, softer skin, with fewer wrinkles. Those who suffer from sensitive skin conditions like acne, psoriasis or eczema report far less skin irritation after sleeping on silk. Likewise, those with frizzy or unruly hair find their locks far easier to tame.
It really is better to sleep on a silk pillowcase. But do make sure you select only the best silk pillowcases. Calidad Home silk products are only made from the purest, 22 momme, long strand mulberry silk fabric that's been made using the charmeuse weave technique. All this adds up the best silk you'll find, anywhere in the world. Dispatched with care from our family-run company, based right here in the UK.
Yes we are a family run company based in the south coast.